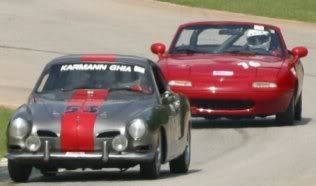 More than a few ShopTalk guys have asked us how exactly do we have our suspensions setup on our IRS (No. 53) and swing axle (No. 261) cars.
There are no suspension or setup "secrets" here, just proven techniques. It gave us two SCCA Solo championships, and fast lap times at most of the major southeast road courses in direct competition with much newer and presumably faster cars.
The first question anyone who knows racing should ask here is why run a Ghia?
To win, you can't just run a car you love and hope it will win. You have to run a car you know that can win.
The VW Karmann Ghia is that car. Here's the bullet points of why it can win.
* The Ghia is light, 2000lb. and under. In today's racing world that is usually 1000lb. less than the competition. And by competition, we mean anything you pick out on the track to beat. Forget classes for a moment, think lap times.
* The Ghia has the advantage of a rear engine, which greatly helps accelleration traction, and weight distribution in braking over almost any front engine car.
* Old Doc Porsche knew what he was doing with the suspension design, and general chassis dynamics. It was the layout of his Grand Prix Auto Unions just before WWII. The Ghia's chassis comes from an old race car, but one that works.
Recognize this front axle beam arrangement? It's where our Type 1 axles come from.
So, most of our real work is done before you start chassis setup. All we have to do is refine a few details.
The Ghia's IRS rear suspension is the best racing choice. It is technically a semi-trailing arm arrangement. Here's both trailing and semi-trailing for comparison.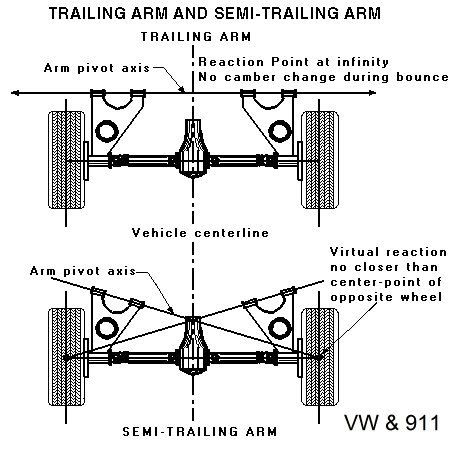 The semi-trailing arm arrangement creates some toe-in on bumps and on compression, which aids in quicker turn-in in fast sharp corners because it is literally doing some rear-end steering.
The pure trailing arm arrangement is more stable at very high speeds, which we will define here as over 100 mph ... but it is less nimble.
To make the Ghia's semi-trailing arms work better at 100 to 140 mph, a good rear sway bar that resists travel is the fix. The faster you go, the less you want happening in the suspension. Ask the salt flat guys.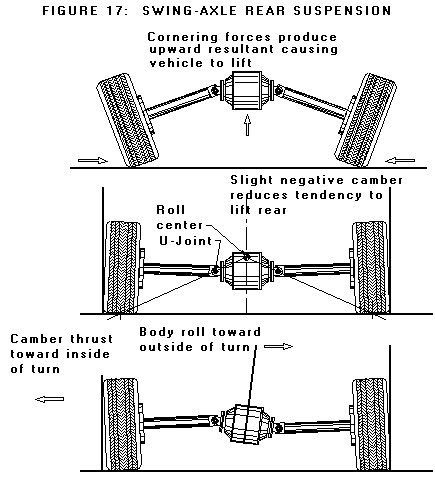 The vernerable old swing axle is
the
example of a system you need to limit movement. The advantages are strength, great ability to take bumps at speed (a great advantage in the Carrera Panamericana) and how it's very instability can be used to advantage by a really good driver to hang the tail out at will and carve up a tight course.
Okay, that's the briefing. Next chapter is chassis and body prep.