I haven't updated my vanagon 2.1 turbo project in a while. I have been sidetracked by my wasser cooling conversion which is still to be installed into my buggy.
Well now I'm back on the vanagon project due to neccesity. This is the before picture: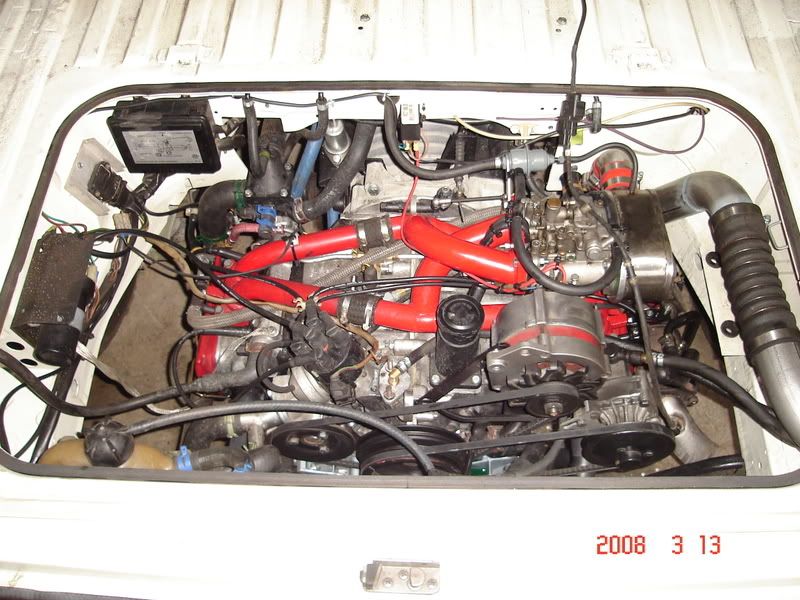 http://i33.photobucket.com/albums/d88/J ... xer042.jpg
New pictures will follow soon.
I had originally planned on using my megasquirt injection due to the extreem poor milage I was getting from the blowthrough carb. Unable to controll the cruise mixture and the low mounted turbo oil return issue caused me to park it for a while.
Then the solution came unexpectedly when I was offered any parts I wanted from a 88 Volvo 740 turbo wagen (overheated) for free.
My Vanagon 2.1 now runs the whole engine management and turbo from this Volvo.
It's a perfect match! Honestly no tuning other than setting the Idle mixture is required.
The system is LH Jetronic 2.2 and EZL ignition timing and knock sensing (2 separate units).
Driving with my wideband shows an avarage sweep of 14.7 all the time while just cruising and as rich as 11.5 at full boost. I am running a rising rate fuel regulator and am considering installing the stock Volvo fuel regulator. system pressure is 44 psi so the vanagon reg is no good.
Drivability is excellent and with the stock boost setting power is more than enough for my driver. A guesstimate of 150-180 hp with no intercooler and no ping.
A hill nearby that would top out the stock vanagon at 60mph will now push past 90mph without a problem. Yes, there is more in it but this is a daily driver and my clutch is standing on the edge. There are simple upgrades for this system that allow up to 16lbs of boost I read about on the Turbobricks Volvo forum.
The hardest part of this addition was removing the integrated injection harness from the volvo and reassembling it according to the wiring diagram I found on the net. Not that hard, just time consuming labeling and splicing wires
Heres the best part: the distributor plugs right in and the timing range is very similar to the stock wasserboxers. The coolent sensor terminal plugs right in. The stock throttlebody and micro switch work after you grind off the full throttle switch cam and replace the connector on the harness with a 2 terminal socket such as an injector connector. The Vovo throttle switch has 3 terminals but only 2 are used for idle
The Idle valve is an easy swap. And the LH airmass sensor is round an small enough to easily mount. Other componants are the ignition module (looks like one from a 1.9 wasser) the fuelpump relay and radio supression relay.
Well that's it for now, as I said I will post pics soon.