Well kewl! Thanks for breaking this out (leather?).
We should probably look at casting properties a bit more, as it does have its time and place. I don't have much time right now (and I'm running low on coffee), but I can sort of sum it up by working with fl_buggy's appropriate wood analogy.
As he said, metals, like wood, have a grain structure. Cast structures are a lot like particle board. There is no real identifiable grain, so to speak. If you could call it a grain at all, it's very random. Now think of the way a particle board moves. It will flex just a bit before yielding--or in that case cracking.
Not everything has to be as strong as a tank, but some things need to be very complicated. For example, take a look at this Porsche 356 sump.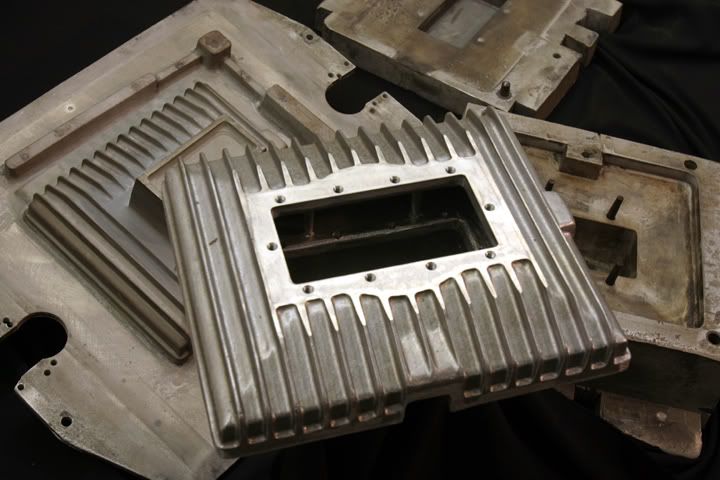 With its open cavity, there is no way that this could be forged. Nor would it have to be; it's not a structural member. Even if it was, a casting can be incredibly strong if necessary (especially when relatively static, as is the case with an engine block, for example).
You can get far more intricate detail with a casting than you can get with a forging. If you look at the parting lines of a casting and a forging, you'll notice that the casting's parting line is very sharp and narrow. Take these crankshaft parting lines for example.
Look how fat it is in this forging:
Now see how thin it is in this casting:
You can get incredible detail like text in a casting (side of VW case sump, for example).
Now here's something to illustrate the density that fl_buggy was talking about. In the foreground is a cast crank. Note how dark and loose it is. Castings often chip away much like brass does when you machine it. The resulting surface in this example is pretty rough, but castings can have very high-quality surfaces (cheap cast crankshaft pulleys or pistons, for example)
Notice how fine the finish is on the forged crank in the background.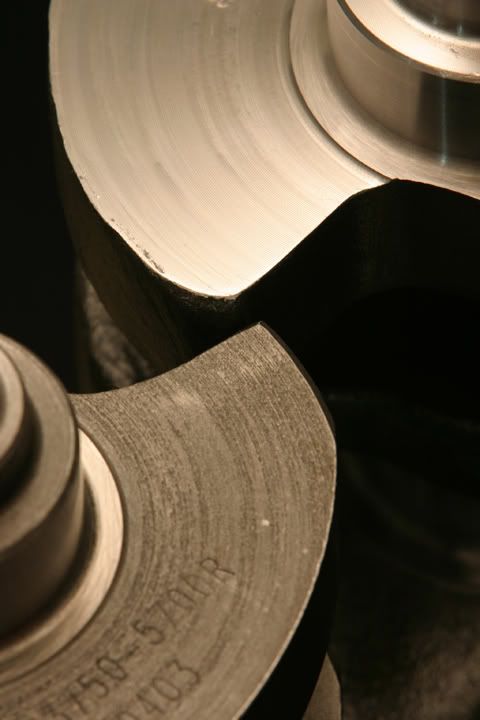 With that density comes greater strength and improved yield properties. Since forged materials behave better under stress, you can make parts made out of them lighter than equivalent cast parts. That's why forged wheels and pistons make so much sense. Decreases in unsprung mass or reciprocating mass radically improve performance. It will also make a part yield in better ways if damaged (bend instead of break).
Again, not everything HAS to be forged. A forged alternator stand or oil pump cover makes little sense, if it's even possible at all.
Now bear in mind that there are almost infinite ways to cast things, and each has its own application based on production volume, strength, detail, and so on. Here are a few of the things we see often.
We can break down the traditional casting processes in the automotive world into two very rough (and incomplete) forms: sand cast and die cast.
To make sand castings, you form somewhat adhesive sand around a form or plug. The plug looks just like the part you want to cast, but it's slightly larger than necessary to account for shrinkage. Sand-cast parts are usually not very detailed. Look at just about any engine block for a good example. Moon valve covers are all sand cast if i remember right. Sand casting is very cheap for limited-production runs but very time and labor intensive.
Die castings are considerably more intensive. They usually require dedicated metal dies which are quite expensive (although not as expensive as forging dies). They will produce far more intricate detail. Old Hot Wheels cars are die-cast, as are alternator stands, VW engine cases, and such. Whenever you see sharp detail, it's usually die cast. Die castings are very fast and cheap to produce in very large quantities, but you have to have the volume to justify the die expense. Most cheap VW pulleys are die cast. As with sand casting, the dies are oversized to account for shrinkage.
There's also a third type called investment casting, and it bridges the gap between sand and die casting in both cost and labor. It basically starts with a wax plug in the shape of the part, only bigger to account for shrinkage. That wax plug is dipped in a setting agent similar to plaster, and once the plaster sets the molten metal is poured into funnels that lead into the cavity inside the plaster. The hot metal melts and displaces the wax, and when it cools you have an incredibly detailed part. Incidentally, this is how almost all bronze sculptures have been made for hundreds--if not thousands--of years. That variety is called Lost Wax method. Jewelry is cast in the same way.
Now here's where the marketing gets weird. You'll sometimes see things referred to as pressure cast. What this means is that the metal is forced, under pressure, into the dies. By compressing the grain structure in this way, the resulting part gains considerable strength and finish properties.
Unless there's something out there that I don't know about, you can't pressure-cast parts in sand. You have to use a dedicated set of dies or the Investment/Lost Wax method.
The cost goes up because of the technology, but a pressure-cast part is generally stronger than a gravity-cast part. A pressure-cast part will never have the yield properties of a forging, but they're leagues ahead of sand castings.
Again, this is all very stripped-down stuff. You can write books about this stuff (which there are many).
In closing for now, you can sand cast your own parts at home. There's a pretty big movement of people doing it, and they're making everything including pistons and whole lathes out of castings they're making at home. The technology is very crude, with furnaces made from metal pails lined with cement and fueled with charcoal and hair driers; however, the parts these people are making are unbelievable.
If you want to see what these people are doing, visit this site:
http://www.backyardmetalcasting.com/links.html
In that page there are lots of links to ordinary people doing extraordinary things by casting at home. It's pretty inspirational.