Please post any carb diagrams or rebuild procedures and helpful carb info and links in this thread. Please list the type carb the info is for.
Weber Carbs
Exploded Views & part numbers for Weber carburetor models:
High-Performance Weber Upgrade Part 5
Weber IDF Charts
Rebuilding 48 IDA Carburetors
Weber Carb Float Level Settings.
Lots Of Weber Info here.
Selection and tuning of Weber DCOE carburettors
Weber Diagrams
Weber IDF Carburetors - Setting up out of the box
Weber Specs Thanks to fortyeye
fortyeye wrote:

davebuckholts wrote:I'm in the final stages of assembly of a basically stock 1.8. I have a set of 40 IDFs that Dave at ACE has redone for me (GREAT service, BTW!) and have a Mallory unilite to use.
The mallory was setup for a different engine and I need to reset the spring rate and advance curve, but I have no clue as to what I'm doing. I didn't get any paperwork or advance tool with the purchase (used).
So, anyone have any insight to share? I'm going to buy a spring kit and the advance tool from John @ aircooled.net, but I am wondering what advance curve I should set it up for.
From what I have read the grey/grey spring setup is the one I should use. Currently there is an orange/purple (I think) set of springs in it.

Dave ... I'm sure you've read John's info

http://www.aircooled.net/new-bin/viewpr ... 03&cartid=

Don't know if you have the vacuum advance model. I've had good luck with the vacuum model (set the vacuum advance unit at 10-12 degrees additional advance) and total mechanical advance to 30 (8 degrees initial) and use grey/grey springs (seems like the accepted choice). I use my timing light to verify the settings, and I don't bend the spring posts to monkey with the spring tension (earlier or later curve) just use what the grey/grey pair gives me. My engine doesn't have a high static compression ratio or a wild cam. Jake uses more initial advance (he also uses the mechanical only advance Unilite) and limits the total to 28 degrees. His engines run higher static compression (and vastly better cam/compression choices) and work better with less advance.
fortyeye wrote:If I have the option (if both carbs have a ported vacuum fitting) I always T them and take advantage of the smoother vacuum signal that two carbs provide. Just make sure you're using the ported fitting. DRLA's and IDA's have a multitude of vacuum ports ... but only one per carb is correct. See the pic below.

Some pairs only have one ported fitting so you don't have a choice. Just don't try using the fittings at the base (carb mounting flange). Those are manifold vacuum and should be capped.
http://www.shoptalkforums.com/viewtopic ... 311#830311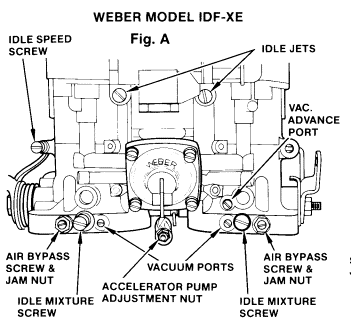 fortyeye wrote:

crf450 wrote:I just picked up a rail and it also has dual 44s what is the proper way to ajust the air mixture screws and the fuel pump and the floats is there some where I can find that info. Buy the way it has a mech fuel pump is that good enough for duals.

Depends on how deep you want to get into your carbs ... I'll start at square one. If you have stamped chrome air cleaner covers, replace them with aluminum ones, top and bottom. If you have K&N's, add an oiled foam (like Uni-filter) wrap to them. Don't be afraid to open your carbs up (which you'll have to do to set the floats anyway), and clean them/blow out the passages with air. A mechanical fuel pump is fine. You'll have to verify the pressure with a vacuum/pressure guage (Sears). Pressure is critical - 2.5-3.0 psi with the engine running (about 3000rpms). If you have to add a regulator, don't use the cheezy "dial and click" units from your local auto parts store. Holley makes a dandy low pressure regulator. Adjusting the idle mixture is straight forward. The strict procedure is this ... idle mixture screws should be no more than 3/4 - 1 turn out from lightly bottomed. If you have to turn them in farther, decrease the idle jets 1 size smaller. If you have to back them out past 1 turn go one size larger on the idle jets. A rule of thumb - 40 IDF's take a 50 idle jet, 44's take a 55, 48IDF's take a 60. Remember though ... don't bother with jetting, sync, or mixture adjustment until your carbs are clean, have the correct fuel pressure and have the floats set. Here's the float setting diagram.

Pay attention to the notes. This float setting diagram applies to 40's, 44's, and 48IDF's. The measurements are in mm.

Sorry for the long post. Do what's outlined here and enjoy. More tricks and mods are available for these carbs. You'll be a pro in no time.
fortyeye wrote:Some of the details on the DCOE's

"Out of the box" jetting

(some of this jetting is incorrect-check 1st!)

Dell DLRA helpers
30PICT-2's
glutamodo wrote:That metering screw is low on the carb body. I wish I could take a picture of one of my 30PICT-2's... but I threw them all away a long time ago!

The factory cutaway picture of the PICT-2 is more of a generalized layout picture, not of the actual locations on the carb. The metering screw is #27 though. In reality, it's on the opposite side of the carb from the volume screw.

30PICT2
34pict/3
Cutaway Drawing 34pict/3
Weber 34ICT helpers
Livens wrote:A few days ago I posted about a new KAFER 34 PICT-3 carb I got from CIP1.com and how it would not run properly. Today I found out why.

I figured it might have something to do with the jets, so I went and bought a new 55 and a 60 idle jet, and 130, 132, 135 main jets. Was hoping some combination of these would work well. Also got a rebuild kit... to rebuild my "brand new" 100% prefect (so CIP1.com says) carb.

Here it is:

Started by striping everything off of it. And immediately noticed something:

Looked like some corrosion or something. The two ports connect into the idle circuit... and idleing was something this carb would not do.

So I pulled the idle jet and the other little jet next to it. Idle crossover jet??? Not sure what it is, but here is where it came out of:

It had two parts, a small screw on the outside and right under that screw was a tiny jet:

The little jet underneath was completely blocked by that same corrosion that was on top:

I took this picture by running my digital camera through a optical lens I found at a goverment auction, I think its 200X or something outrageous. But it lets you take reallllly close up pictures of small stuff. The actual jet is less than a 1/4" long.

So I soaked everything in mineral spirates and cleaned all the passeges with pipe cleaners. Put it all back together with the new size jets:

Idle Jet went from 55 to 60

Main Jet went from 127 to 130

It runs and idles perfect now!

If you buy a Kafer pull the top off and see if you have any corrosion in it. You wouldn't think a new carb would have this problem, but I guess nothing is 100% perfect (<--- CIP!.com !!!!!!!)

Jeremy
Making The Solex 34 PICT-3 Compatible With Your 009 Distributor
Kadron
Kadron Diagram
FRD34B
Thanks Timmy but it is Dellorto FRD34B not a Dellorto 34frdB .

Dellorto
Delloroto DRLA36,40,45 & 48
Description Sizes/options
1 10527 DRLA36/40 Choke (Venturi) 26,28,30,31,
32,33,34,36 43 6581 Spindle nut lock washer
1 10758 DRLA45 Choke 32,34,36,38,39 44 7537 Spring washer
1 11486 DRLA48 Choke 38,39,40,41,42 45 7490 Spindle bearing
2 10078 DRLA 40 Auxiliary venturi No longer available 46 10353 Retaining clip
2 10527 DRLA45 Auiliary venturi No longer available 47 10135 Nut
2 11487 DRLA48 Auxiliary venturi No longer available 48 7413 Choke return spring
3 7484 Main jet 85,90,95,100,
102,105,108,110, 49 10252 Choke piston
3 110 to 190 in steps of 1, 190,192,195,198…
210-240 in 5's 50 10137 Choke actuator cam
4 7644 Idle jet 32-82 in 1's 51 7062 Choke cable bolt
5 10927 Pump jet 30,33,35,38,40,42,
45,48,50,55,60 52 10156 Return spring
6 3315 Starter jet 40-90 in 5`s 53 6850 Choke cable washer
7 9164 Main emulsion tube No's 1,2,3,4 54 10110 Drive link
8 7482 Starter emulsion tube No`s 1,2,3,4 55 6432 Choke cable nut
9 7485 Air corrector 80,90,100,110,115,
120,125,130,135 56 10231 Cover plate
9 140,142.5-202.5 in
2.5`s 205-250. 57 9174 Set screw
9 10304 Tall air corrector jet 160,170,175,180,
190,000 58 10140 Choke cable bolt
10 10305 Needle valve (metal) 150,170,200,225 59 7231 Choke washer
10 10375 Neddle valve turbo (viton) 150,170,200,225
cross drilled 60 10817 Choke lever
10 8649 Needle valve, viton tipped 250,270,300,350,
400 cross drilled 61 10311 Choke cover
11 10133 Throttle butterfly DRLA 36 62 5011 Lock washer
11 7481 Throttle butterfly DRLA 40 63 4957 Lock washer
11 8010 Throttle butterfly DRLA 45 64 10253 Screw
11 8563 Throttle butterfly DRLA 48 65 2906 Nut
12 10090 Float 66 10928 Pump jet holder
13 10097 Fuel banjo, return 11mm bolt Carb details required. 67 6426 Pump jet holder fibre washer
13 12393 Fuel banjo, return 16mm bolt Carb details required. 68 10748 Pump jet Filter/spring
14 10132 11mm banjo bolt Carb details required. 69 6173 O ring
14 12390 16mm banjo bolt Carb details required. 70 7571 O ring
15 10134 11 mm banjo seal 71 10138 Manometer fitting
15 7662 16mm banjo bolt seal 72 8678 O ring
16 10096 Fuel banjo, double 11mm bolt 73 9926 Air bleed screw
17 1419 Fuel Filter 74 9663 Pump diaphragm spring
18 10570 Banjo bolt seal 75 10182 Pump diaphragm
19 6430 Top cover screw 76 10256 Pump cover plate
20 4957 Lock washer 77 5011 Lock washer
21 10066 Top cover Carb details required. 78 6429 Screw
22 10092 Top cover gasket 79 10315 Lock nut
23 6288 Needle seat sealing washer 80 10340 Retaining washer
24 10154 Float hinge screw 81 10332 Spring
25 8498 Retaining clip 82 10331 Sleeve
26 10339 Float hinge screw 83 8260 Retaining washer
27 10738 Idle jet holder 84 9336 Spring
28 7540 Sealing O ring 85 10316 Pump rod
29 7542 Pump non- return valve 86 10686 Retaining clip
30 7513 Cap screw 87 9656 Mixture screw
31 10630 Top cover stud 88 10153 Pump rod clamp
32 7636 Pump jet weight 89 7667 Pump rod clamp screw
33 6415 Pump jet ball bearing 90 8857 Progression blanking cap
34 7540 O ring 91 9754 Screw
35 9754 Throttle stop screw 92 6423 Lock nut
36 7958 Spindle end cover 93 7507 Venturi grub screw
37 10230 Linkage drive arm 94 10790 Butterfly spindle
38 10142 Step washer 95 6416 Throttle butterfly screw
39 10184 Throttle lever 96 10157 Return spring
40 10158 Throttle return spring 97 10183 Throttle lever
41 10130 Washer 98 10229 Throttle lever
42 6423 Spindle nut 99 52534 Gasket set
More Delloroto info here
[/quote]
Zenith