I think I am in the position of looking for a vertical band saw.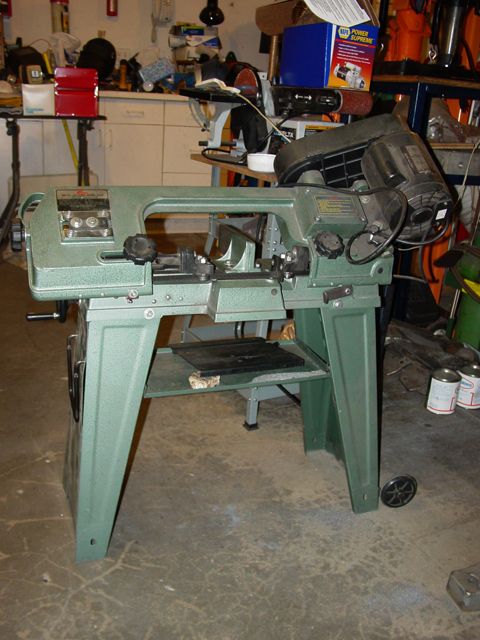 Currently I have this, an old ENCO that I bought new over 20 years ago. If you get it set up correctly, get a good bi-metal blade with the proper tooth count and crank the band adjuster down very tight (the key to the whole thing) you can cut, horizontally, a piece of metal off with a very close to 90° cut. Looking on line at places like Craig's list I see them (the same tool with different paint and/or decals from different companies) for sale for as low as $75 and some seemingly gold plated ones for prices above what you can buy them for new… even the JET version of the same thing.
The big drawback to them is when you are cutting vertically. The platen supplied is next to worthless and you have to change the platen from the horizontal one to the larger vertical one which is so awkward to do you wear out the cross/phillips head on the two screws. You then are at an awkward position to cut in, and the unit can get tippy in the direction you are feeding the material to be cut in so you end up sitting on the machine itself. The stand for the machine is flimsy at best and is always vibrating the screws out.
You can
http://www.homemetalshopclub.org/projec ... stand.html
and
http://www.mini-lathe.com/Bandsaw/Bandsaw.htm
(a lot of good information on the second URL) but you are still limited in vertical cutting direction.
Looking around I found a two speed 14" wood/metal band saw at Tool Town for $250. When talking to someone several years ago I was told to get a gear driven unit which are really expensive but since I am a home/garage metal screwer-upper do I need more than this.
I also found a JET 14" Vertical Metal / Wood Band saw ~ Model J-8201K - $895 (
http://www.jettools.com/us/en/p/j-8201k ... 1ph/414500
) at a scratch and dent sale locally. This is a 120 volt unit and it normally sells for anywhere around $1400 to $1600.
I did look into Grizzly which is around 80 to 100 miles north of here but they don't have anything in the under $1000 price range and in 120 volt.
So, does anyone have any good ideas/advice? I don't want to pay shipping if I don't have to.
Lee