Onto the cooling system. This is one of the current projects on this car, and has been sidelined lately with work on the chassis and front suspension. After studying the OEM and several Vanagon conversion cooling layouts I'm pretty well set on going with this layout: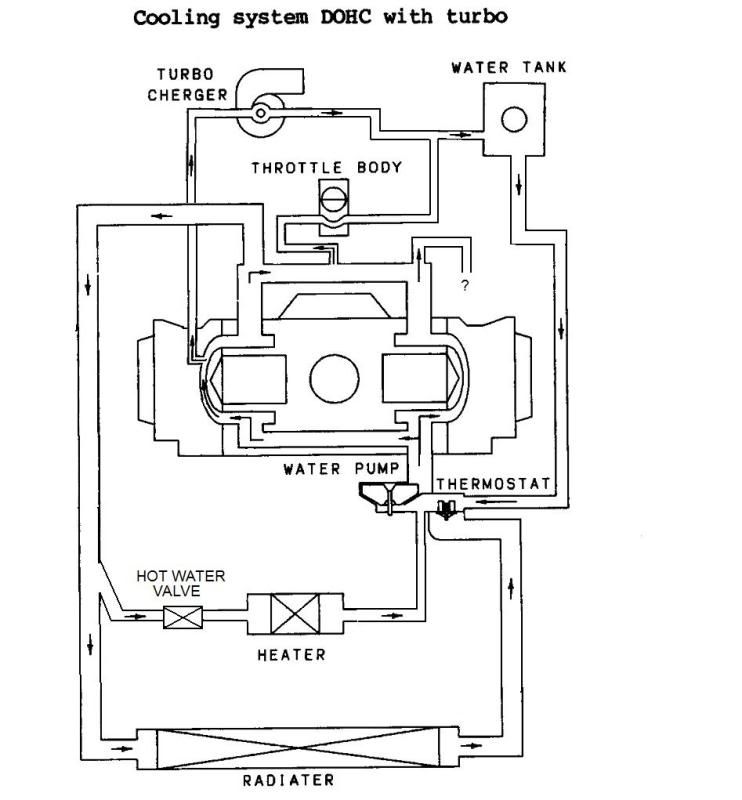 Instead of running coolant through the heater core full time, it's going to be plumbed to be a
non-necessary
curcuit for proper engine warm-up and thermostat operation. Only open when the heater is on. The OEM heater line coming off the top of the water manifold will be Teed into either the line from the water resevior, or the return line from the heater core. Either one plumbs back in as a bypass of the thermostat, and either should work to circulate enough coolant for proper thermostat operation - or at least I'm "pretty sure" it'll work. Dont know 'till you try!
Radiator will be up front, it's an Afco "Scirocco" style I picked up a Speedway motors scratch and dent sale - although it looked to be in near perfect condition. I pressure checked it for leaks first thing and it checked out good. Onto the modificaitons.

First of all, the standard drivers side outlets won't work with my frame design - they pointed straight into a frame member. Off they came and plugs fabricated to be welded in and cap them off. The elbows shown will be sectioned into 90 degree pieces and routed out the side of the radiator (near the original outlets) pointing rearward. The top one I'm not 100% sure just yet - it needs to loop 180 degrees back across to the passenger side. Not sure if this will need to be up top, or drop down nearer the bottom of the chassis before crossing sides. I need to do some more mock-up before deciding on final position of both new outlets. I also fabbed up a 3/8" pipe fitting to weld into the passenger side for the cooling fan sensor.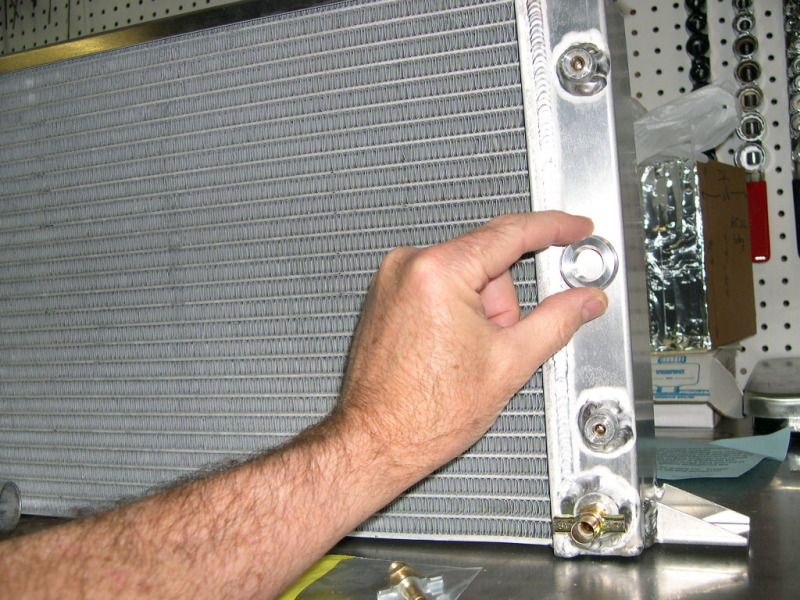 I think I've identified a "0" pressure radiator cap - one that just seals the opening vs. being pressure rated to open for an overflow (Stant 10232 or 11232). Never knew they made such a thing until recently. If that works I'll install a bleeder fitting in the overflow outlet in the neck to help bleed out air during inital fill-up. Be a lot easier than cutting off and welding up the filler neck opening, plus adding a bleeder back in! My main cooling system fill and overflow is back by the engine.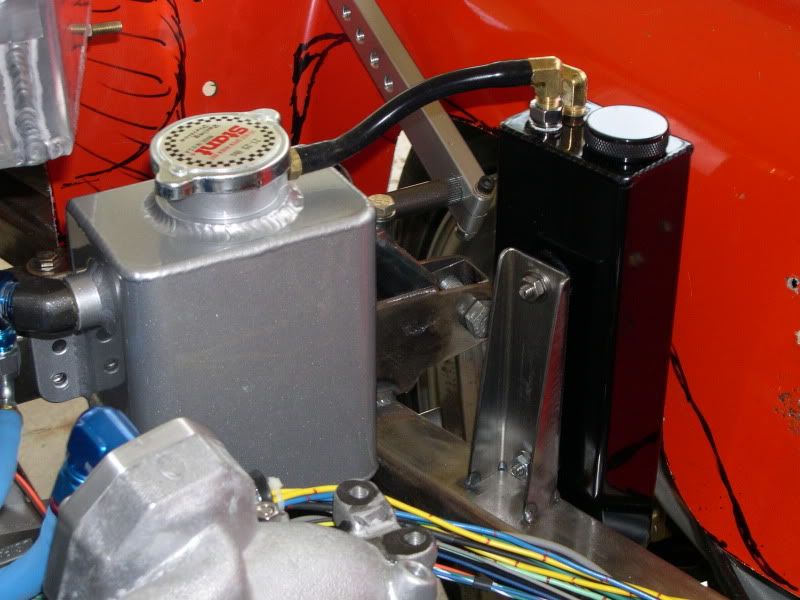 My cooling lines will be sized using the Renegade Hybrids school of though for their 914-V8 conversion (which they also use for their 914-Subaru conversions). Engine to radiator will be 1" size - to promote a little more pressure/better heat transfer and speed up the flow of hot water to the radiator. The return to engine is 1.25". I've found standard radiator hoses to convert to these sizes from the Subaru stock 1.5" and get the elbows I needed. Running aluminum cooling tubes front to back on either side of the chassis, down near the bottom. Looking for a "flat bottom" chassis with nothing hanging down underneath when I'm done.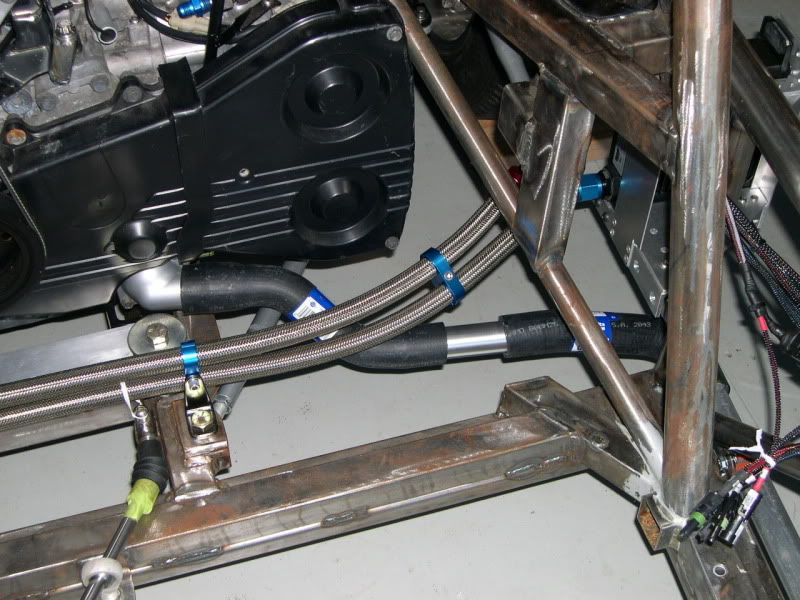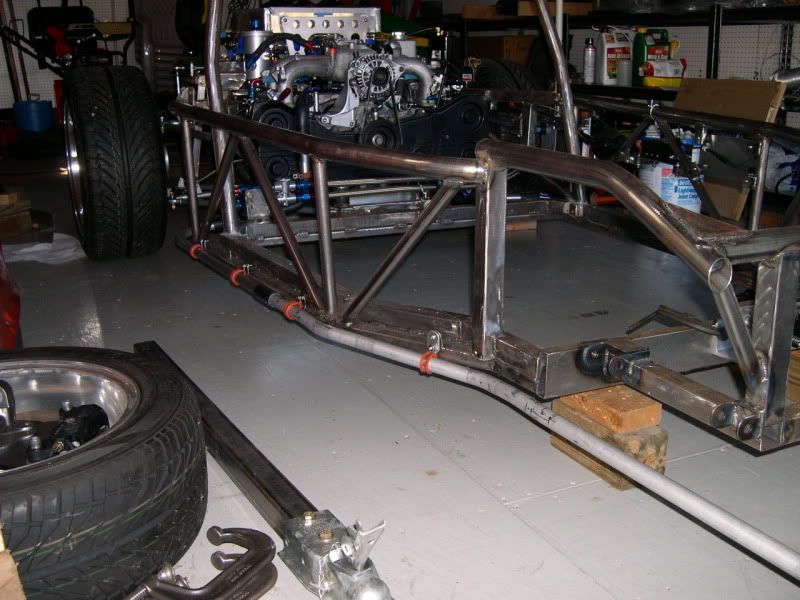 More work to do to get all this fitted up under the front end, and as mentioned that's been sidelined by the other front end suspension work currently going on. I'm leaning towards just running a Spal fan with brackets locating it in the middle of the radiator, puller fashion (no shroud). Space is very tight in the front of this car with little front overhang, I need to conserve space wherever I can. Haven't pulled the trigger on the fan just yet, looks like it'll be in the June budget.