I think it's about time I started my own thread about my
conversion perversion
.
This has been a looooong term project and has gone through a couple of "game changing" ideas before ever hitting the street.
So the story begins about 7 years ago I wanted to build a fiberglass body buggy. Always liked them as a youngster and 70's teenager, and in searching for an easy to build car project - what could be easier?

During my searching for a suitable candidate for restoration, and having been out of VW's for about a decade or so and catching up there too, I came across a Deserter GS for sale. This was a ready to drive car and big bucks. To me the "ultimate" street bugy - light weight, mid-engine, Big motor - the
exotic
of buggies! I'd read and oogled over these as a kid, but figured by now they were pretty much "unobtanium".
Well, this sale didn't work out but in the process I was able to pick up a lot of knowlege about the cars and now nothing else would do! I lucked into another GS I'd come across during my searches - but a basket case and needing 100% going through. I'd been hoping to start with a little less of a "project" and more of a driver, but for these cars - if you can even find one that's going to be your one chance! With some minor negotiations it was my new dream machine.
Original plan was a straightforward going-through, freshening up what needed it and mostly a "stock" build. After all, though it literally came in baskets and cans of parts - it was more or less 100% there. Upon closer inspection though, I could see most of the hardware, gauges, engine, trans, pretty much everything was way worn beyond a light freshening-up state.
Back to the conversion - the supplied Corvair 140 engine it seemed like a good starting point for a flat 6 hot-rod project. Lots of research ensued, hanging out on Fastvairs and similar 'Vair boards, picking up everything I could on the potential of the old engine. Though available and relatively plentiful, performance Corvair parts do command a premium. This led to a long thought battle - keep the 'Vair or swap something in more modern? I was wanting into the 200hp club and while the "Vair would do it, it also got pretty high strun in the process. I researched, measured, and diagramed in about a dozen different engines - from the Vair & VW, to Porsche flat 6, V6's, even the BOP/Rover aluminum V8 and in the end the Subaru just made the most sense. It easily supported the HP goals (in stock form too!), low CG, and seemed to fit the chassis as a close to direct bolt-in (however, this was later proven to be not quite the case).
So now the goal was to procure and install a JDM Suby EJ with as few mods to the chassis as possible. Still staying with the "just freshening it up" idea, but now with a modern powerplant. That
rose colored
vision didn't last too long......

More research into transaxles now, as I was questioning the ability of the swingaxle handling the Suby hammer. Especially if I decided to later crank it up a little since HP up into the 300 zone seemed easily doable with the solid Subaru foundation. The conclusion of this research resulted in obtaining a Porsche 914 transaxle and having it gone through. This was about 5 years ago - well before I became aware a Subaru 5-speed could be easily converted to mid-engine use. By that time (a couple years ago) I was too far into the build to start swapping transaxles. While the 914/901 box isn't ideal with the fragile 1st, 2-4th are much stronger and guys have been running them with Chevy small block torque for decades with acceptable reliabality (if not abused that is!). It also fairly closely matched the VW swingaxle in overall dimensions making fitting it to the chassis relatively straightforward - which the Suby trans OTOH would not be.
But wait - the 914 uses CV jointed axles, not swingaxles. Enter full rear suspension re-design to 5-link. Enter major rear chassis re-design to support the suspension (and later realized conflicting points between EJ and original chassis). Enter, "well now that old trailing arm VW front suspension won't do either" and front suspension re-design. The years dragged on with studying suspension design, researching suitable parts, and purchasing the tools to pull it all together. So much for an "easy" project!



Now that I'm on the final stretch I'll detail some of the engine fitting - which has been only one part of this whole puzzle!
Here is a couple shots of the original GS chassis and layout - Corvair engine, VW swingaxle transaxle and torsion beam front end, all connected with a lightweight (as in about 80 lbs) tubular chassis and assembled with a monocoque fiberglass seat "tub" sheathed with the GT (or S1 "Manx" style body in these pics) fiberglass body. These cars were radical, and this was the late 1960's!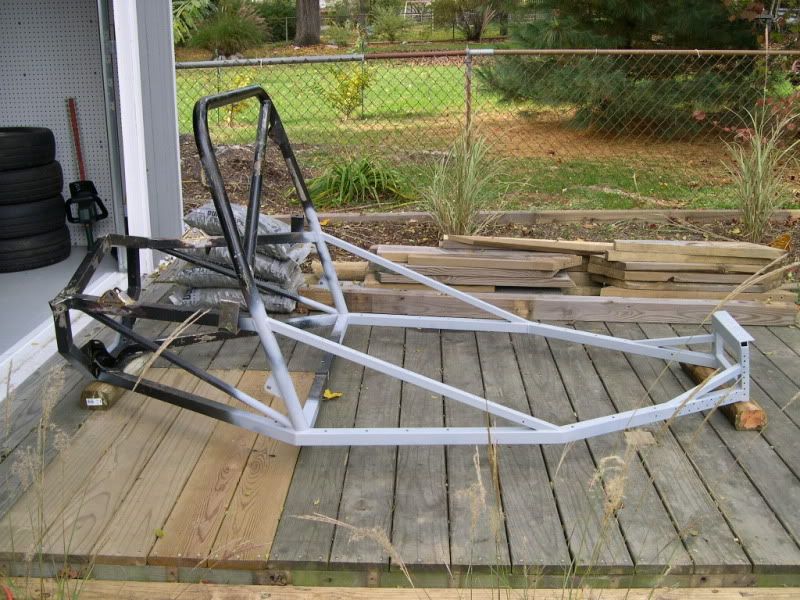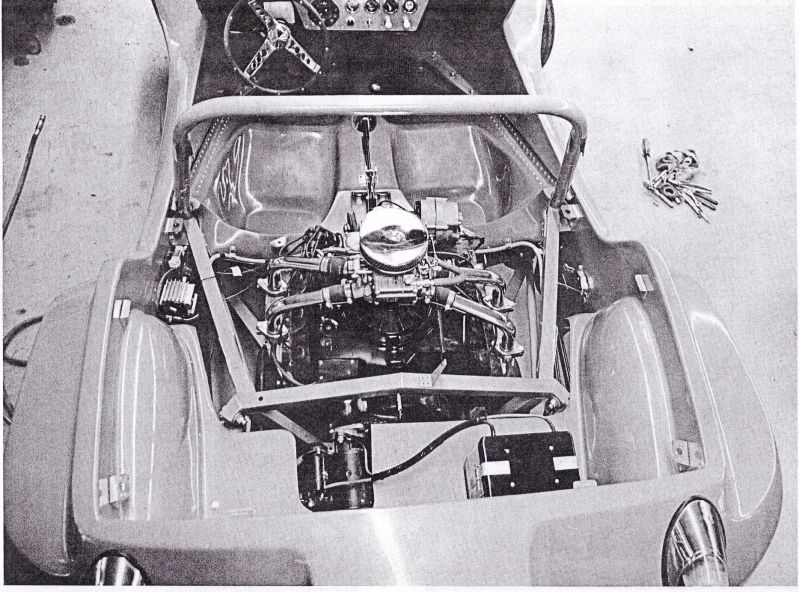 That's my original chassis in the first pic, which has since undergone some radical re-construction.
This is some of what I had to do to the back to accommodate the new rear suspension and EJ engine. Basically narrowing the lower frame supports to allow room for the exhaust to exit downward.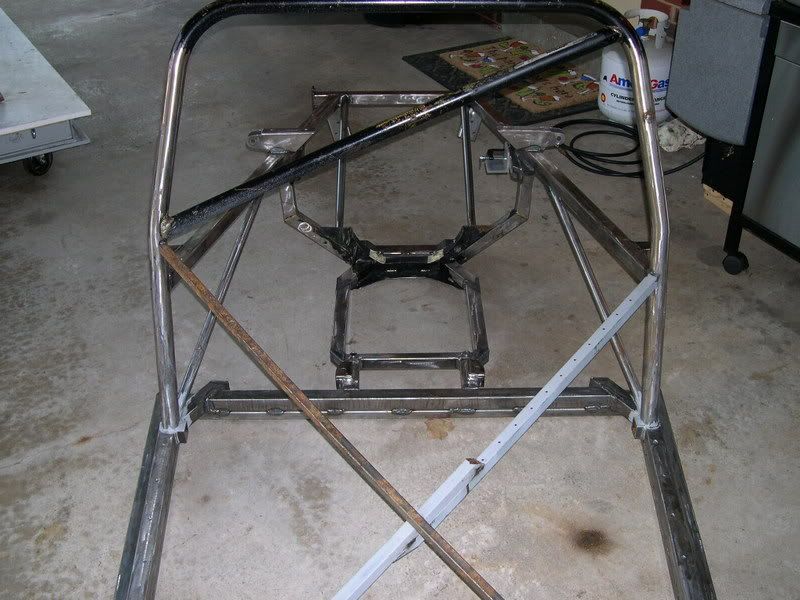 More chassis mods - I was no longer keeping the fiberglass tub and monocoque construction (I wanted "real" seats!) so more bracing and updating the front end to accept an a-arm suspension.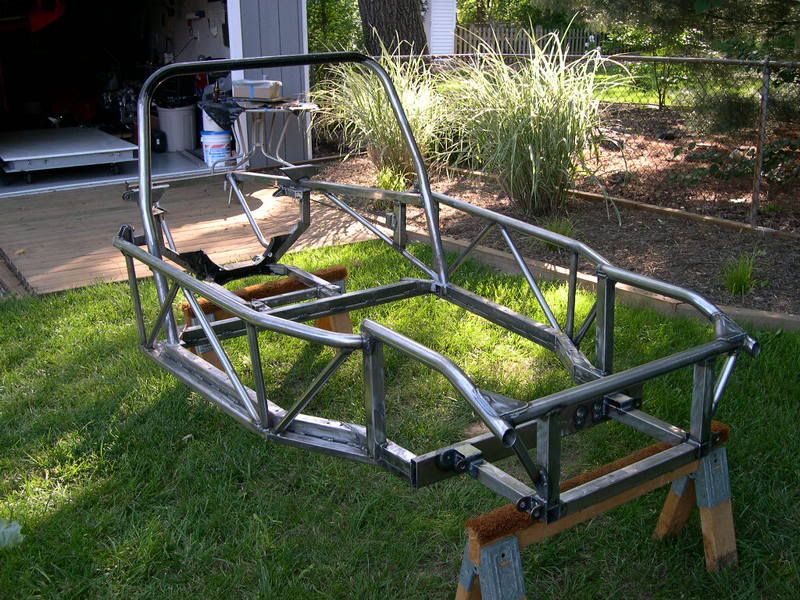 Onto the engine swap:
Just delivered - not too exciting to look at, just yet.....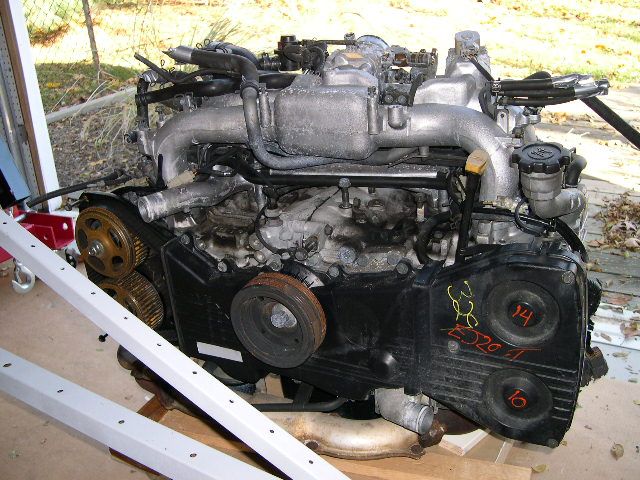 A diamond in the rough?