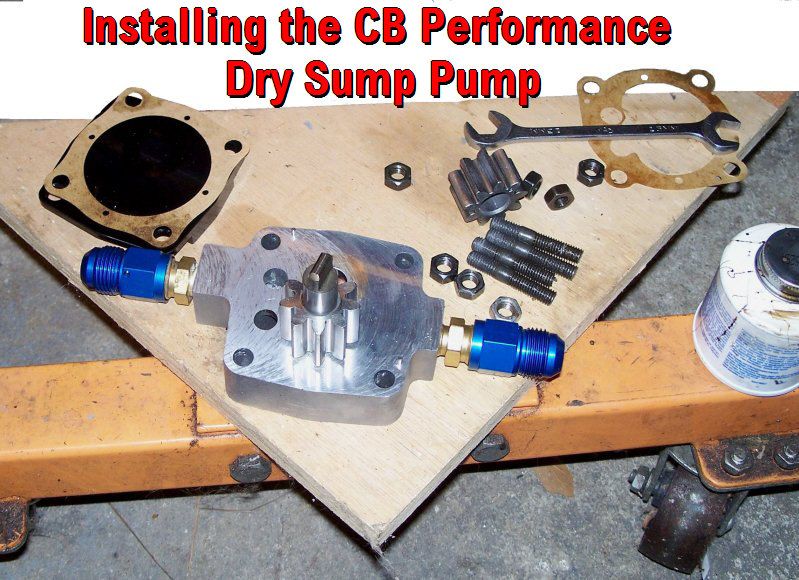 Above: CB (part number #1745) pump parts laid out. From left to right, pump cover plate & gasket, outer
pump body, and gasket between inner and outer pump body.
Deep sumps work for most of us VW hot-rodders, and fabricator's ingenuity with extra head or valve cover drainoffs
help a bunch, but there comes times that only a dry sump system will keep your engine alive.
Dry sump advantages are the constant flow of cooled, defoamed oil to the engine no matter how many G's you're
pulling in the turns, no matter what oil is trapped in valve covers or wherever else. Plus, the internal engine scavenging
greatly helps evacuate crankcase pressure. Almost every oiling problem inherent in the flat-four VW can be fixed with
a dry sump system. So then why don't we see more of them?
The two big reasons are cost and complexity. But, for those of you with full-flow oil systems with coolers, you've
already got two-thirds of a dry sump system. You just need a dry sump pump, matching fan pulley, and oil tank.
The problem for most people is where to put the oil tank.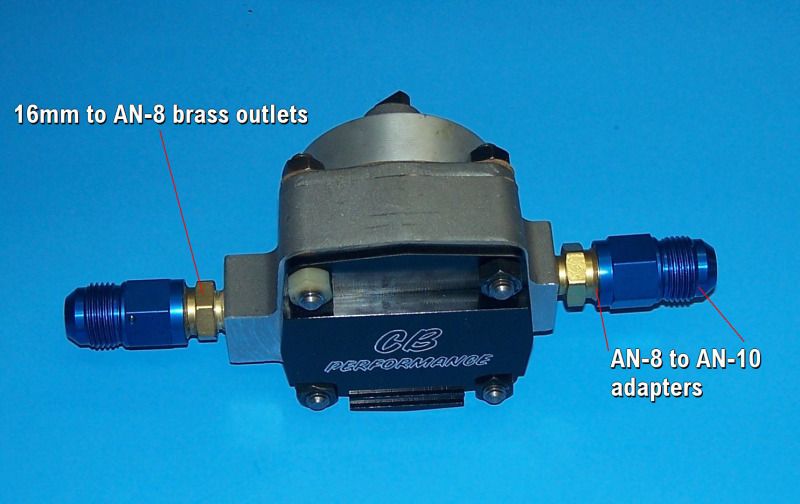 Above: CB's #1745 four-gear "two-stack" pump made by Schadek, with 21mm pressure, 26mm
scavenge gears. One stack = 2 gears.
CB Performance sells what may be the least complicated dry sump pump available. It is a simple two-stack pump
which doesn't have multiple scavenge or oil pick-ups, instead using only the engine's stock internal oil pickup. "Oil Out"
(pressure) to the filter, cooler, and tank is the left side of the pump as you face it from behind the engine, and "Oil In"
(scavenge) is on the right side. More complex multi-stack pumps can scavenge from several locations in an engine.
Most of us are accustomed only to the "wet sump" pump system, with suction or scavenging occurring from the engine's
internal oil sump to feed the pressure function. In its most minimalist form (this CB design), the dry sump pump is actively
pumping from the pump body (on one "gear stack" or side) to an oil tank and sucking from that oil tank back to the pump
body on the second gear stack.
No machining, plugging of passages, or special clearancing is necessary to install the CB pump. Just slip it in as the
following photos show.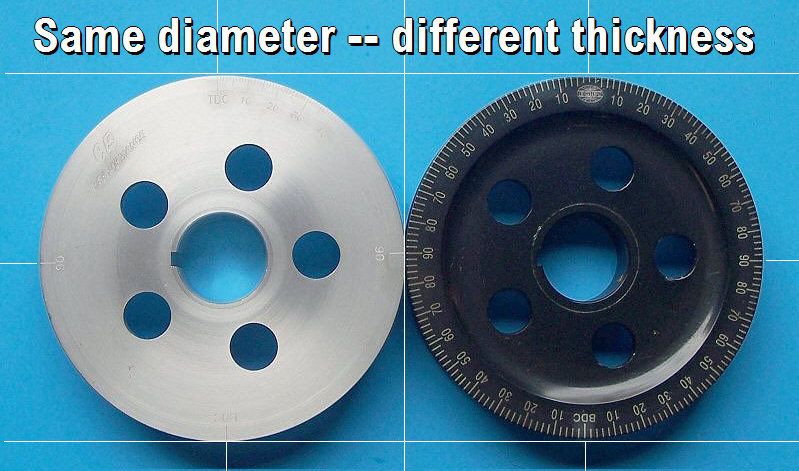 Above: A thinner fan pulley that clears the pump face is necessary (CB # 1953) and uses a Continental AVX10x865
fan belt. CB #1953 also includes a bolt-in sand seal kit, shims, and a longer pulley bolt.
Above: Left. New pump body installed. To the right, some general purpose grease applied and the special gasket
between the pump body and the external pump body extension.
Remove your old pump, apply a new standard gasket between the new pump body and case, and tap or slide
in the new pump body.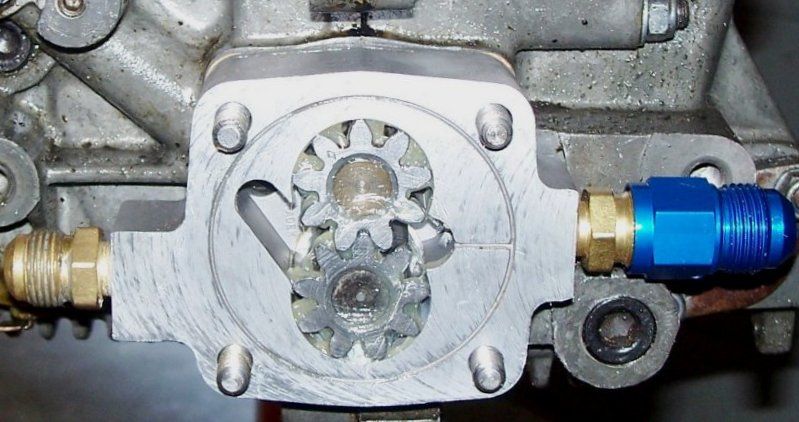 Above: The pump's outer body in place.
Note the brass fitting on the left side. It's a 16mm x 1.5 metric thread, not an NPT thread. CB's site offers an
aluminum version (part number 1750, 16mm to AN-8) specifying they are for the #1745 pump, but the pump's
product information for the pump itself does not specify that the pump requires metric threads. Jegs.com offers
an Earl's 16mm x 1.5 to AN-10 fitting as part number #361-9919FFJ.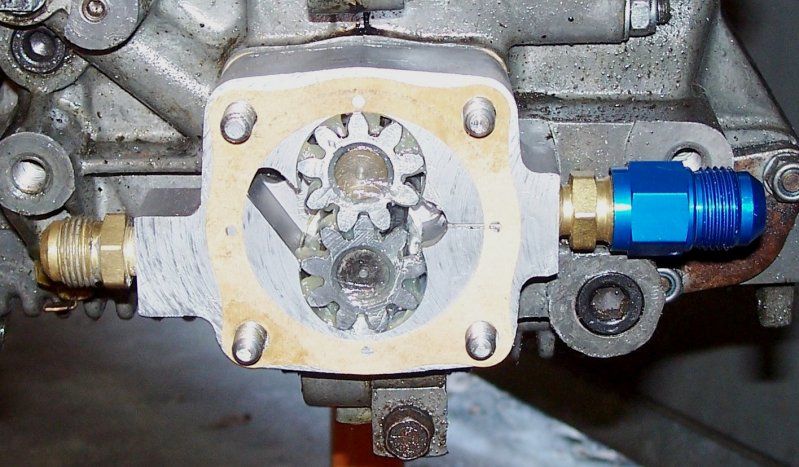 Above: Second stack gasket in place. Notice the blue anodized AN-8 to AN-10 adapter on the
right side brass fitting.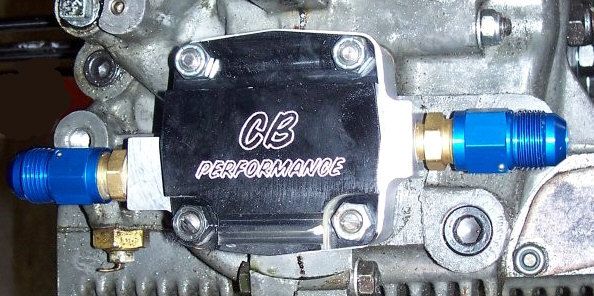 Above: Pump cover in place. We have Earl's 16m x 1.5 x AN-10 fittings on order.
Above: CB's oil flow schematic. Note that no oil thermostat is included, but could be included. A thermostat
will bring the oil to operating temperature faster, a necessity for street use, as short trips would never allow
warmup of the gallons of oil held by dry sump tanks.
Above: The low profile dry sump tank chosen for this project.
Most dry sump oil tanks are cylindrical and tall, or at least barrel shaped. Think of an aluminum beer keg.
A tall tank allows for the incoming oil to swirl down over baffles and defoam. But, positioning a tall tank or
even the beer keg style can be a real problem,
Just as water seeks its own level, so does oil. If the "Oil Out" fitting is higher than the oil pickup in the engine,
oil from the tank will gradually drain back into the engine. This can literally fill up an engine case with oil, to
include the cylinders, if the oil tank is high enough.
Some people have actually fitted manual valves to their "Oil Out" plumbing that must be opened before starting
the engine, and closed when not running. I myself have tried to start my engine with the carb intake rain caps
snapped in place enough times to know a valve might be overlooked.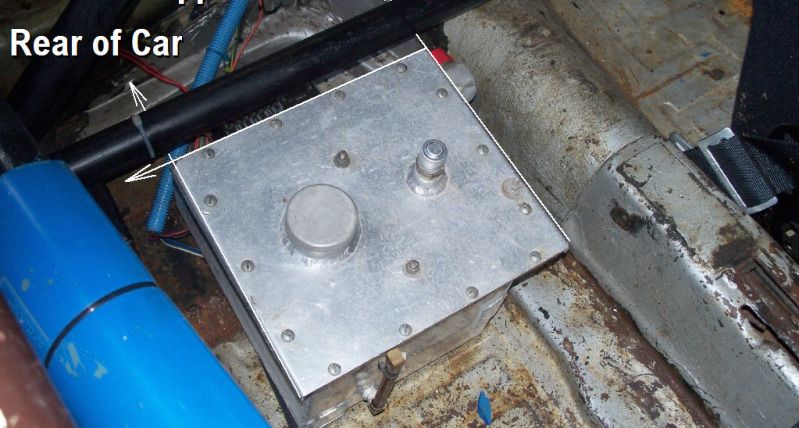 Above: By using a shorter, square oil tank that can be mounted very low in the chassis, drainback is limited. I'm
using a hole in the pan that gives access to the oil drain plug on the bottom of the tank ... which is where you drain
the oil for an oil change in a dry sump system.
Above: A screened oil suction kit is fitted.
No deep sump is necessary with a dry sump system. You can regain ground clearance and save weight
by omitting the deep sump.
(end)