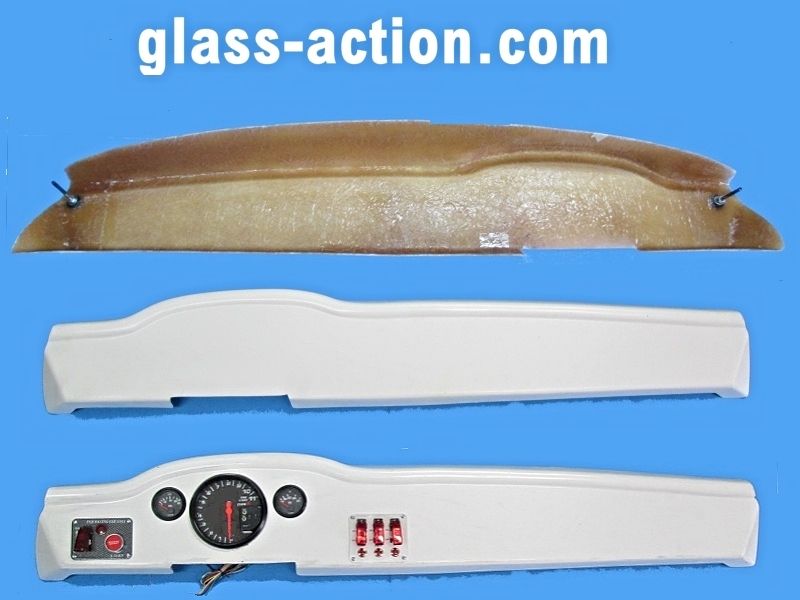 Above: (Top) Reverse side of the product, showing molded-in mounting studs. (Middle) As delivered, the exterior is a smooth gel-coat. (Bottom) A race-only dash with instruments installed. While the dash can be cut to allow use of the glove-box door, we won't do that on this race version, giving us a smooth cover to the edge, same as the Porsche Speedster.
Glass-Action Replacement Dash
Ghia dash pads crack and warp. That declasse fake wood cover facade tatters and peels. The thin black plastic dash covers used at the end run of Ghia production also split and break away. Most Ghia fans regard the painted dashes of the early cars as the best.
Here at Retroracing, we needed an entirely new dash for our road-race only car and a racing style dash for our daily driver project. Glass-Action had the best product, a smooth, blank-slate bolt-on fiberglass dash. The fiberglass dash bolts on using existing holes in the original dash.
The product fits well, right to the windshield. We're painting the top edge of the dashes flat black to decrease glare, but will paint the dash faces body color
If you need a cockpit makeover, Glass-Action offers these for about $120 each, delivered. We're more than happy with them.
FJC