Lars S wrote:
Just discovered the difference in min/max marking on the dipsticks for a VW411LE and a 914/4, both from -72. As you may know the two veichles had almost identical 1,7 80hp D-jetronic engines.
The min on the 914 seems to be the max on the 411, despite this the sticks are identical.
In addition to this the 914/4 had a some extra arrangements in the crankcase to prevent high sea in the oil (at least from some year model).
/Lars S
The lower stick is the 914/4 one.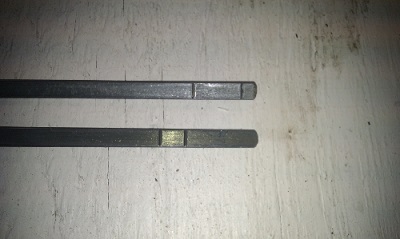 Drained and topped up the oil in my 914 today, the difference in volume at the different dipstick marks are are as follows:
Upper 411 mark to lower 914 mark: approx 100ml
Lower 914 mark to upper 914 mark: approx 350ml
That's OK with me but why does the 411 and 914 manuals list the same oil capacity?
/Lars