Moderator: david58
Moderator
Posts: 14072
Joined: Sun Oct 23, 2005 8:14 pm
Location: Georgia near Savannah
Are there are too many gaskets in a gasket set? And no Main seal?
You do not have the required permissions to view the files attached to this post.
Hot, humid air is less dense than cooler, drier air. This can allow a golf ball to fly through the air with greater ease, as there won't be as much resistance on the ball.
---
Posts: 3011
Joined: Fri Apr 20, 2001 3:01 am
Location: Front Royal, VA
Yes, there sets generally have a collection of all possible gaskets and seals for every (type 1) engine version, covering different sizes and models. Single port, dual port, etc. etc. So you will have lots of leftover stuff after doing one engine. And yes you need to know which gaskets to use
For example, there are paper and metal gaskets for the flywheel. Only either one is to be used, or neither, depending on the crank & flywheel type. The later type used an o-ring inside the flywheel and no gasket is used.
Some stuff for the early engines are missing sometimes, like the oil pump gaskets for the small stud pumps.
What is almost always missing from these kits, is the main seal that you will need to purchase separately. I always wondered why. But that's how its' been for decades.
---
Moderator
Posts: 14072
Joined: Sun Oct 23, 2005 8:14 pm
Location: Georgia near Savannah
Thanks Bugfuel the gaskets are numbered and I wanted to see if someone could make a list of which gasket goes where and what engine it fits. It would be good to add to the Newbie Sticky.
Hot, humid air is less dense than cooler, drier air. This can allow a golf ball to fly through the air with greater ease, as there won't be as much resistance on the ball.
---
Posts: 1346
Joined: Thu Apr 01, 2004 4:49 pm
Location: Bump City South-Oceanside, Ca.
One note about #20 (fuel pump on top of the phenolic spacer). If you find a source for the thicker (usually dark gasket material) ones, buy 'em and save 'em. The thick top gaskets are just what the doctor ordered for tuning your fuel pressure without having to shave the fuel pump rod.
---
Moderator
Posts: 23738
Joined: Thu May 23, 2002 2:01 am
Contact:
You can buy a gasket set that includes the flywheel seal, but the commonly-available 111 198 007AF set does not. It does include a couple of gaskets (#18 & 21 above) which are used on Type III engines. If you have a "universal" replacement case you may need #18 for the blockoff plate at the rear of the sump. The two thick cooler seals at #4 are only for use on pre`70 Type III oil coolers.
#1 Four rocker stud seals (do not use on heads which only have a chamfer around the base of the stud)
#2 Six case stud O-rings (do not use on cases which are not machined to accept them, mostly `66/`67)
#3 Four rocker stud seals for early 1200-style heads
#4 (Upper pair) Two 021 117 151A cooler seals, for use on large-passage cases with "doghouse" DP cooler or `70-style 111 117 021E large-passage SP cooler. Two more needed if you wish to renew the ones between the DP adapter and the cooler. Also used on `70-`73 Type III cases/coolers.
#5 Sixteen pushrod tube seals
#6 Distributor O-ring
#7 Six 10mm copper-plated washers for oil strainer plate
#8 Flywheel-to-crank gasket (steel, approx .012" thick) for pre-mid`66 non-O-ring flywheel/crank
#9 Two intake manifold preheat gaskets. Some sets will also include one with a restrictor hole.
#10 Four exhaust flange gaskets
#11 Flywheel O-ring
#12 (Left) Oil strainer plate drainplug gasket
#12 (Right) Oil pressure plunger plug gasket - two needed for dual-relief cases.
#13 Two singleport intake manifold gaskets, fit 1300 and 15/1600 SP heads. Also can be used between oil filler and pedestal (gasket set does not include a replacement paper gasket for this location)
#14 Baffle plate, goes between pedestal and case with louvers down. May be used alone or sandwiched between #26. Not used on early cases with a small round hole in the case flange
#15 Two dualport intake manifold gaskets
#16 Paper gaskets to be used under washers at 8mm case nuts straddling #4 main and #1 cam bearing, and/or oil pump.
#17 Carb flange gasket. Singleport & dualport are different sizes, set may have one, both, or none
#18 Gasket for Type III oil filler pipe flange (or blockoff plate) to case
#19, 20 Fuel pump gaskets
#21 Gasket used between aluminum fan/pulley and steel fan on Type III
#22 Paper version of #8 (approx .008" thick)
#24 Oil pump cover gaskets (6mm and 8mm) thin
#25 Oil pump-to-case gaskets (6mm and 8mm) thick- do not use at cover
#26 Two pedestal gaskets
#27 Four paper gaskets (approx .008" thick) for use between cylinder bases and case on 13/15/1600 (and late Euro 1200)
- few builders choose to use these, most apply a thin coat of RTV to the cylinder base instead.
#28 Two valve cover gaskets. Fit 1200 40HP through 1600 based engines except for early 40HP "bastard engine". Some sets have VC gaskets that are wider at the top which will work on those heads, but they will not work on `71-up valvecovers (they have a "bump" at the top to keep the gasket from sucking down) without trimming.
#29 Two oil sump gaskets
#23 ? Look to be same size as exhaust flange gaskets but appear to be paper, not sure what they're supposed to be for
---
Moderator
Posts: 3250
Joined: Sun Mar 04, 2007 10:49 pm
Is #23 a carb base gasket?
Collecting parts again... No I'm not going to say why!
---
Posts: 4961
Joined: Sun Mar 30, 2008 1:43 am
Location: Vista, CA
Contact:
I just picked up the 111198007AF gasket kit from Jbugs for $17.95. It came with the flywheel seal.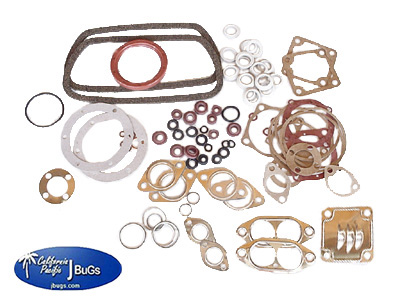 ---
Posts: 934
Joined: Tue Apr 22, 2008 10:41 pm
Location: Simi Valley, CA
This is amazing! I never knew until now what #16 & 21 were for.
---
Posts: 934
Joined: Tue Apr 22, 2008 10:41 pm
Location: Simi Valley, CA
Hedrock wrote:Is #23 a carb base gasket?
Nope. see 17
---